Weblead Notification
Setting up Weblead Notifications allows all users listed to receive a notification every time a weblead is added to Club OS. This helps notify users of a new weblead so they can login to Club OS and follow up with them as quickly as possible.
Club Admins can set this up and manage the listed users by going to My Club > Location Settings > Location Defaults > Choose Location > Location Other Email Addresses. Add as many user's email addresses making sure they are separated by a comma.


To setup the Weblead Notification as a text message sent directly to your phone, enter your 10-digit phone number along with the appropriate "@gateway" address from the list below. Example: If my cell phone provider is AT&T, I'd enter 5125551234@txt.att.net
| | |
| --- | --- |
| Carrier | SMS Gateway Domain |
| AT&T | @txt.att.net |
| Boost Mobile | @sms.myboostmobile.com |
| Cricket Wireless | @mms.cricketwireless.com |
| Google Project Fi | @msg.fi.google.com |
| Republic Wireless | @text.republicwireless.com |
| Sprint | @messaging.springpcs.com |
| Straight Talk | @vtext.com |
| T-Mobile | @tmomail.net |
| Ting | @message.ting.com |
| U.S. Cellular | @email.uscc.net |
| Verizon | @vtext.com |
| Virgin Mobile | @vmobl.com |
The notification will contain demographic information of the new prospect. If it also includes "*This prospect has shown interest in the club before." then they've submitted their information but is already a prospect in your club.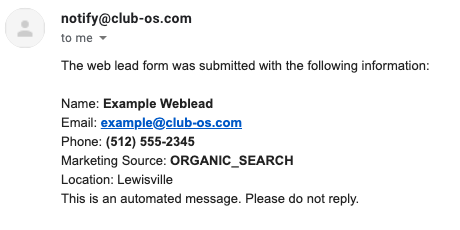 Guest Pass Expiration Notification
Setting up the Guest Pass Expiration Notification will provide an emailed list each morning of all active guest passes that are expiring. Club Admins can set up and manage this list in the same way as Weblead Notification.