Starting June 26th, you will see a new widget added to your Club OS Dashboard (underneath the KPI's Widget). The "Recently Added" widget will display prospects and members in the order they were created (newest accounts will always be displayed at the top). Club Admins and Location Managers will be able to filter for all of the location's leads, while Salespeople and Trainer roles will only be able to see those leads assigned to them within the widget. This feature will allow you to easily see recent leads and be able to quickly access their accounts, without having to go to user search.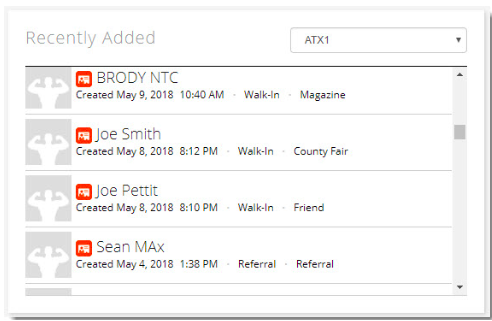 Important Workflow Notes regarding this new feature
-This widget should not be used for communication. Instead, it's the easiest place to find the newest accounts. Please continue using the Follow-Up window to communicate. Use the Recently Added for keeping an eye on new accounts and accessing them conveniently.
-The window will assist in sales situations where a prospect fills out the Digital Guest Waiver at a kiosk before speaking with a Salesperson. It easily allows that Salesperson to know the name of the lead who has recently submitted their DGW and move forward in the sales process. They'll be able to easily find and fill out the Guest Courtesy Card with this new lead (if applicable at your club).
What should I NOT use this widget for? 
To follow-up with a Member/Prospect with no consideration for the follow-up schedule in place (i.e. Unscheduled Contact).
Incorrect KPI stats due to incorrect workflow
Reaching out to a lead before the scheduled time and disrupting the intended membership sales workflow
What should I use this widget for?
Disclaimer: Below is a comprehensive list of actions that you could perform in Club OS. Every item may not be applicable due to your set-up, enabled services, integration, and workflow.
Quick access to locate a recently added Member/Prospect

Update their user profile

Assigned Trainer
Fitness Profile
Guest Courtesy Card
Contact info
Change (Transfer) assigned follow-up person (M and PT)
Make "Not interested" or "Interested"
Override (reschedule) next Follow-up date

Review communication

Lead Notes (manual entry, action records, and follow-up history)
Contact History
Message History (SMS)

Personal Training

Update salesperson
Update PT billing date
Charge for unpaid invoices
Review inventory

Total units, Remaining units, Completed events, Scheduled events, Expired units

Unexpire sessions
Book/update Personal Training appointments (events)

Schedule individual or recurring events
Update the event owner
Record event outcome

Confirmed, Rescheduled, Canceled, Canceled-Charge, No-Show, No-Show Charge, Completed