Step 4: Taxes
Topic: To explain and explore the Taxes portion of Club OS' Package Setup.
Purpose:
Taxes are a way for a club to charge a final percentage on a product or service sold. After they are set up, taxes can be applied to Member Services…
Member Services

...Fees, and Cancellation Fees.
Fees and Cancellation Fees


Procedure:
Begin by clicking the Taxes tab of Package Setup.

To add a new tax to the list, click the 'Add Tax' link.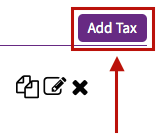 This will take you to the 'New Tax' page, as seen below.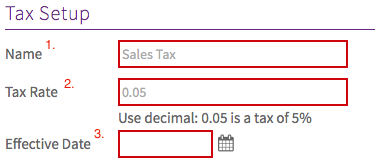 Name:

The name of the new tax. (

Example

: Sales Tax)


Note

: Club OS does not allow a club to edit a tax's name after creating it.


Note:

If you need to change your tax rate, you must add a new tax, please make sure to name it identically to the name of your previous tax.

Tax Rate: The rate, in decimal form, at which the tax is charged against the service(s) sold. Club OS uses ceiling rounding on tax payments - for example, a tax payment of $2.344 in taxes will be rounded up to $2.35.


Effective Date: The date in which the tax will first take effect.


Example

:


Upon completion, if a tax is ready to be implemented, click 'Save'.

The tax will post onto the Taxes homepage.