NOTE: This is a guide for establishing the integration between Club OS and Facebook. If you have already completed this and are looking for help troubleshooting an existing integration, please find the Leads Ad Troubleshooting article here.
---
If your club has a Facebook page, you can create targeted ads that allow prospects to submit their information directly to you through Club OS.
This tool is typically only available to Club Admins. You may need to contact our support team to enable this option. Depending on your Club OS package, charges may apply.
This is a three-step process:

You can also remove the integration at any time.
Step 1: Create the Facebook Leads Ad Form
1. Select the Business Page for which Club OS Lead Ads are to be created.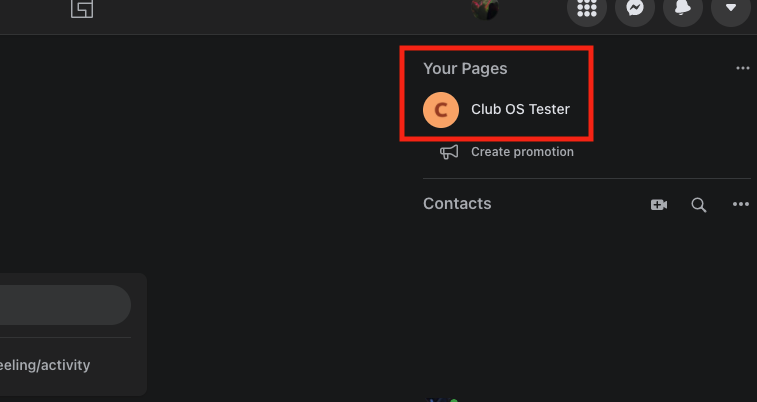 2. On the left, click "More Tools" to expand, and then click Business Suite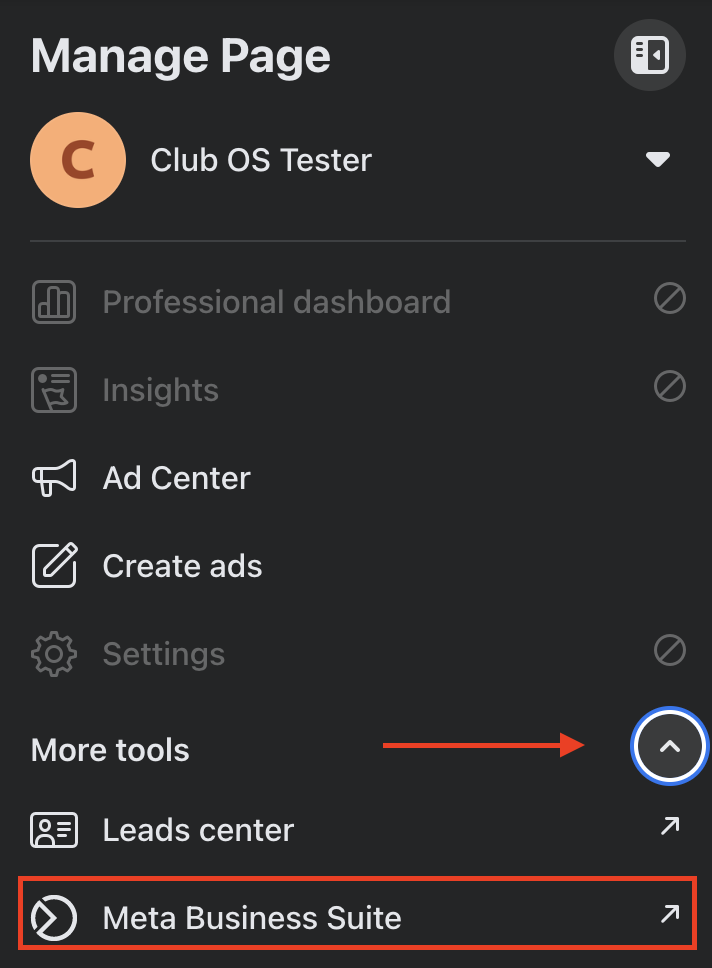 3. Select "All Tools"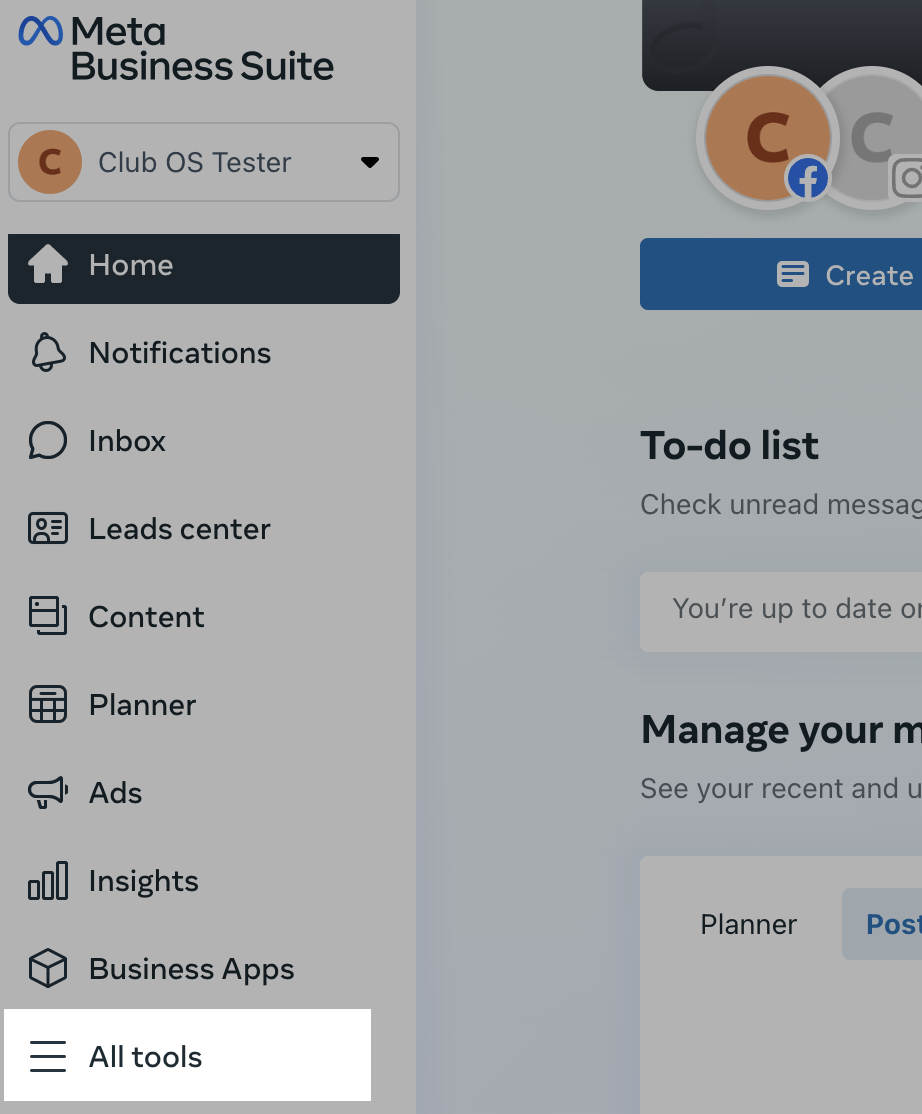 4. Select Ads Manager. This will open a new tab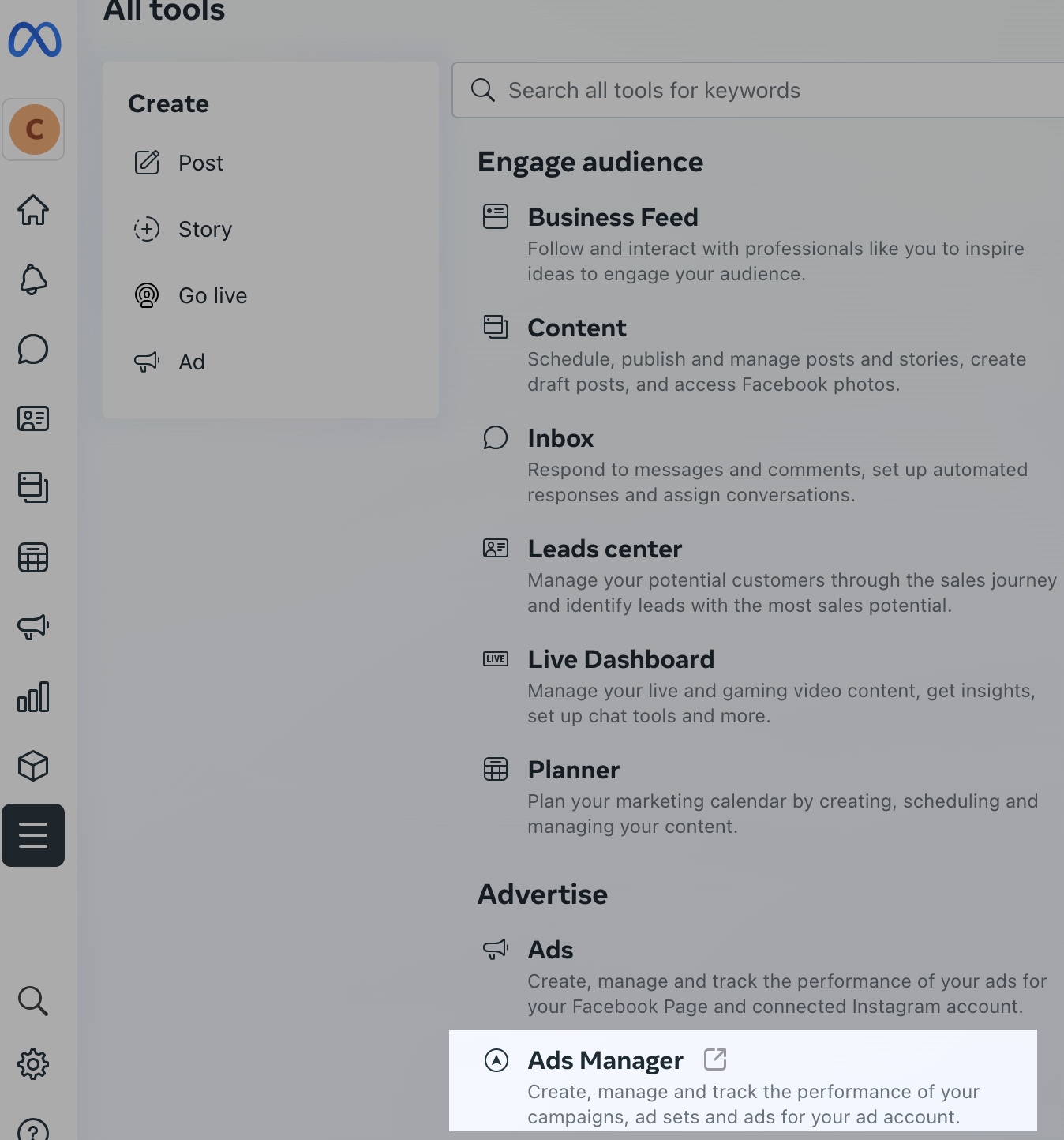 5. Create a Campaign
Click "Create" and choose "Manual leads campaign"

Choose Leads and click "Continue"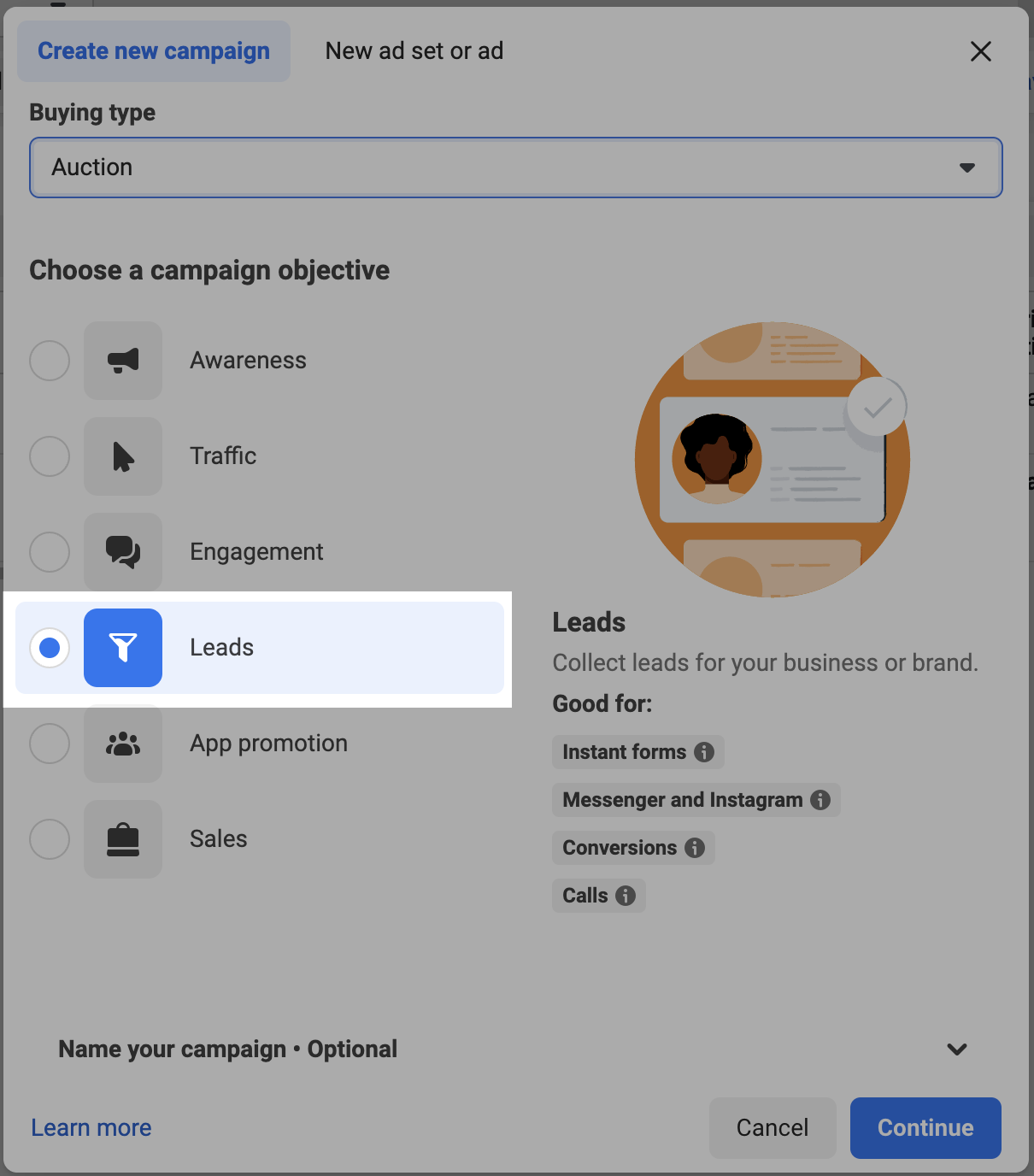 Choose 'Manual leads campaign' and click Continue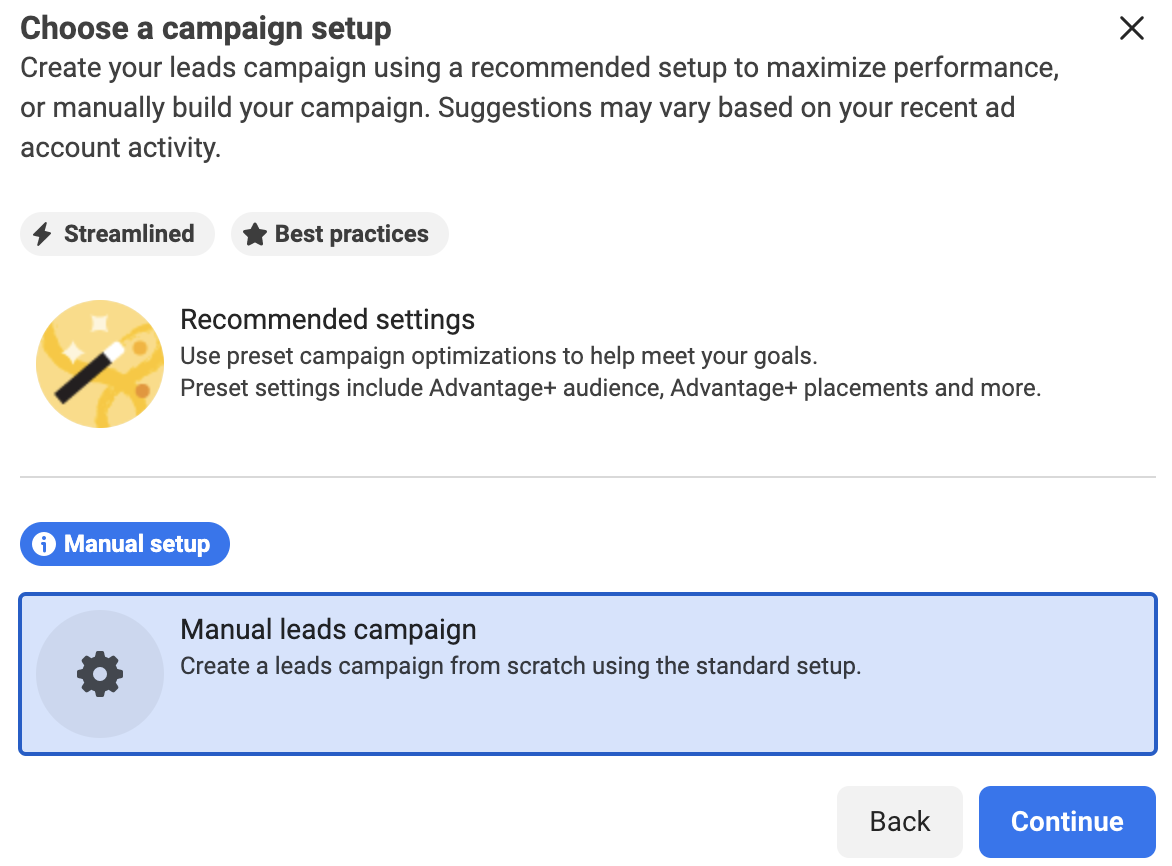 Note: Familiarize yourself with this page. There are many settings that are not covered in this guide, as the intention for this guide is to provide an overview.
6. Create your Lead Form.
Click New Leads Ad Set and select 'Instant forms'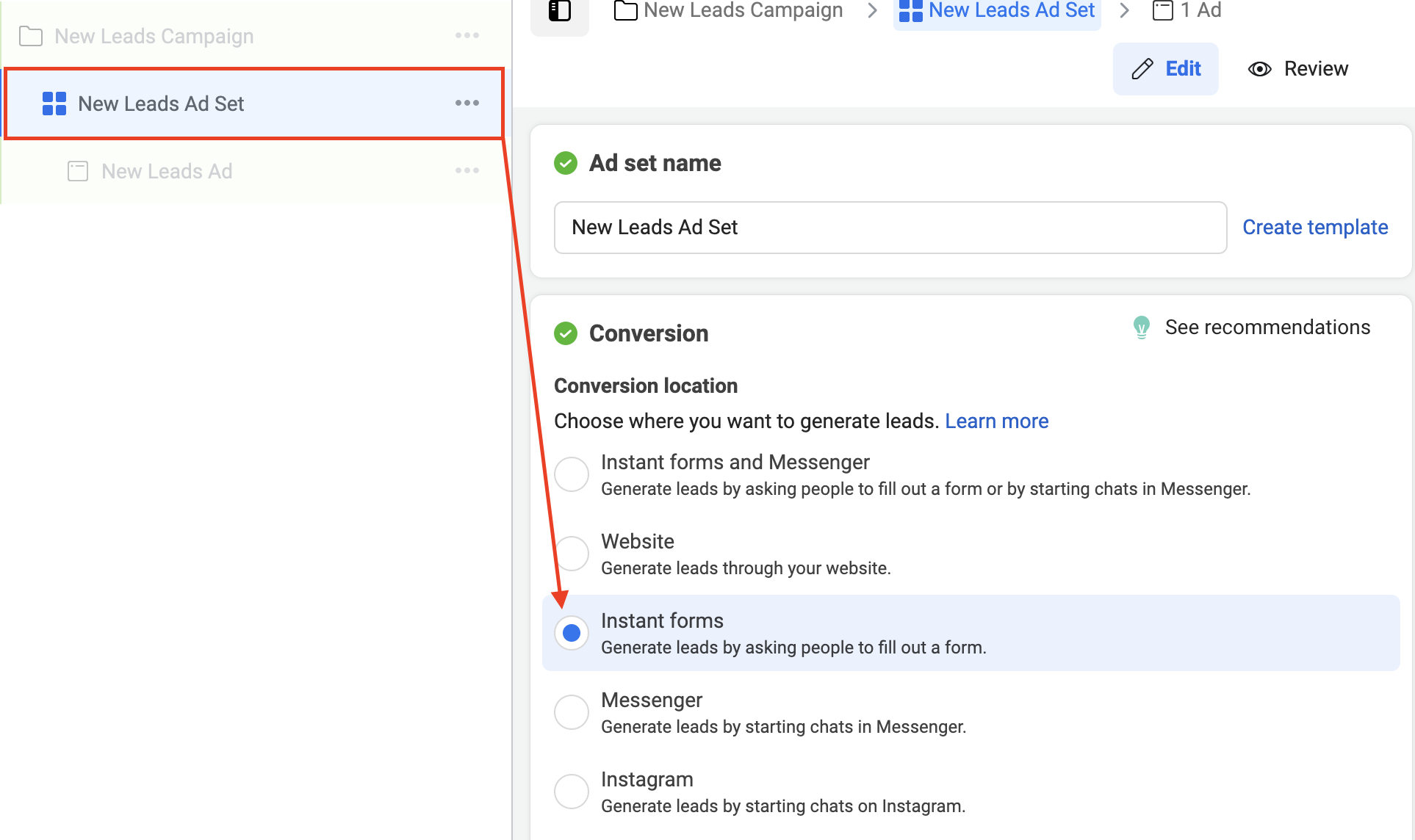 Select New Leads Ad, scroll down and click 'Create form'.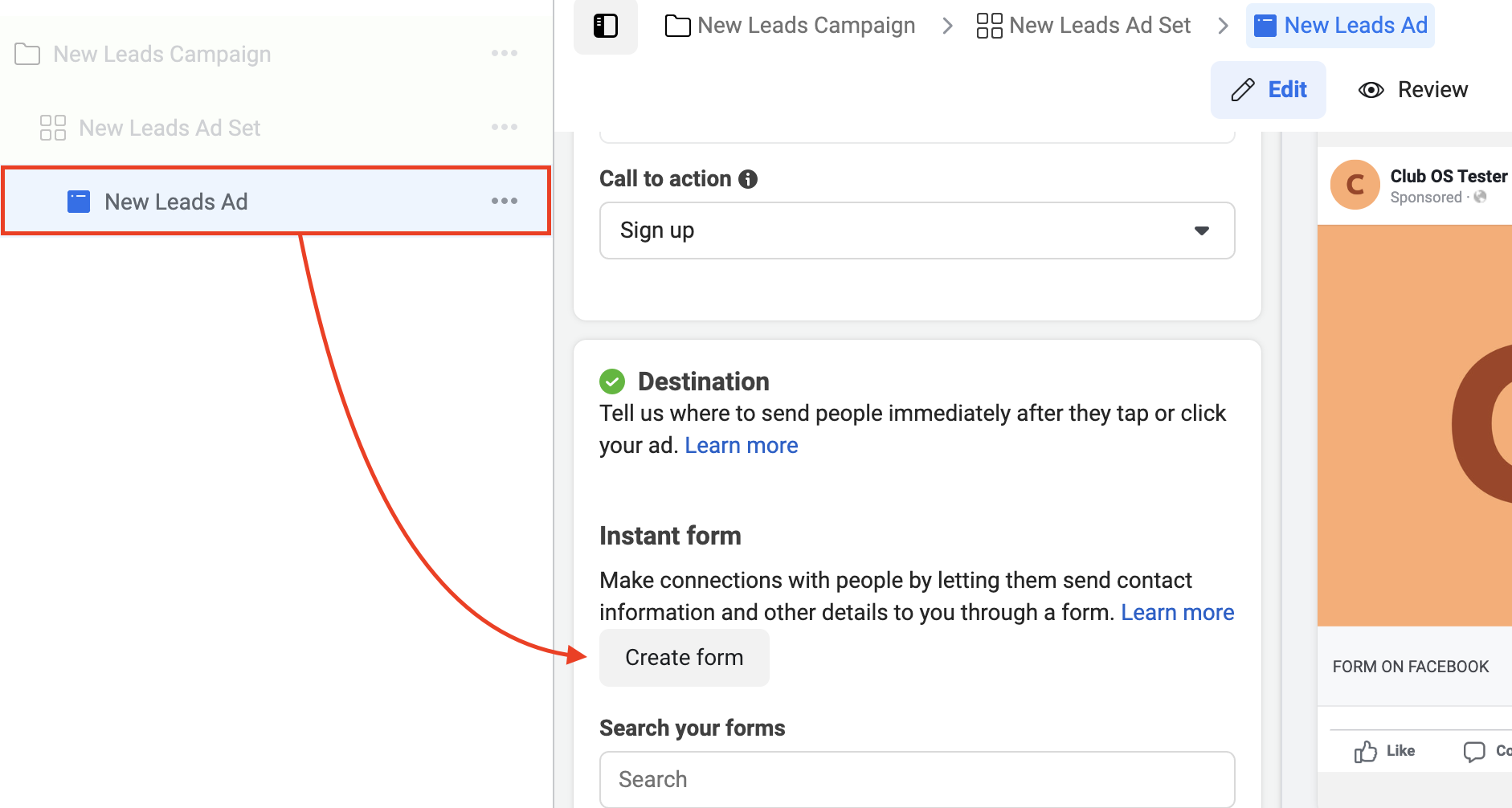 Complete this form as you would like, however once you reach the "Questions" step you'll need to take special care to expand it and

Remove

"Full Name"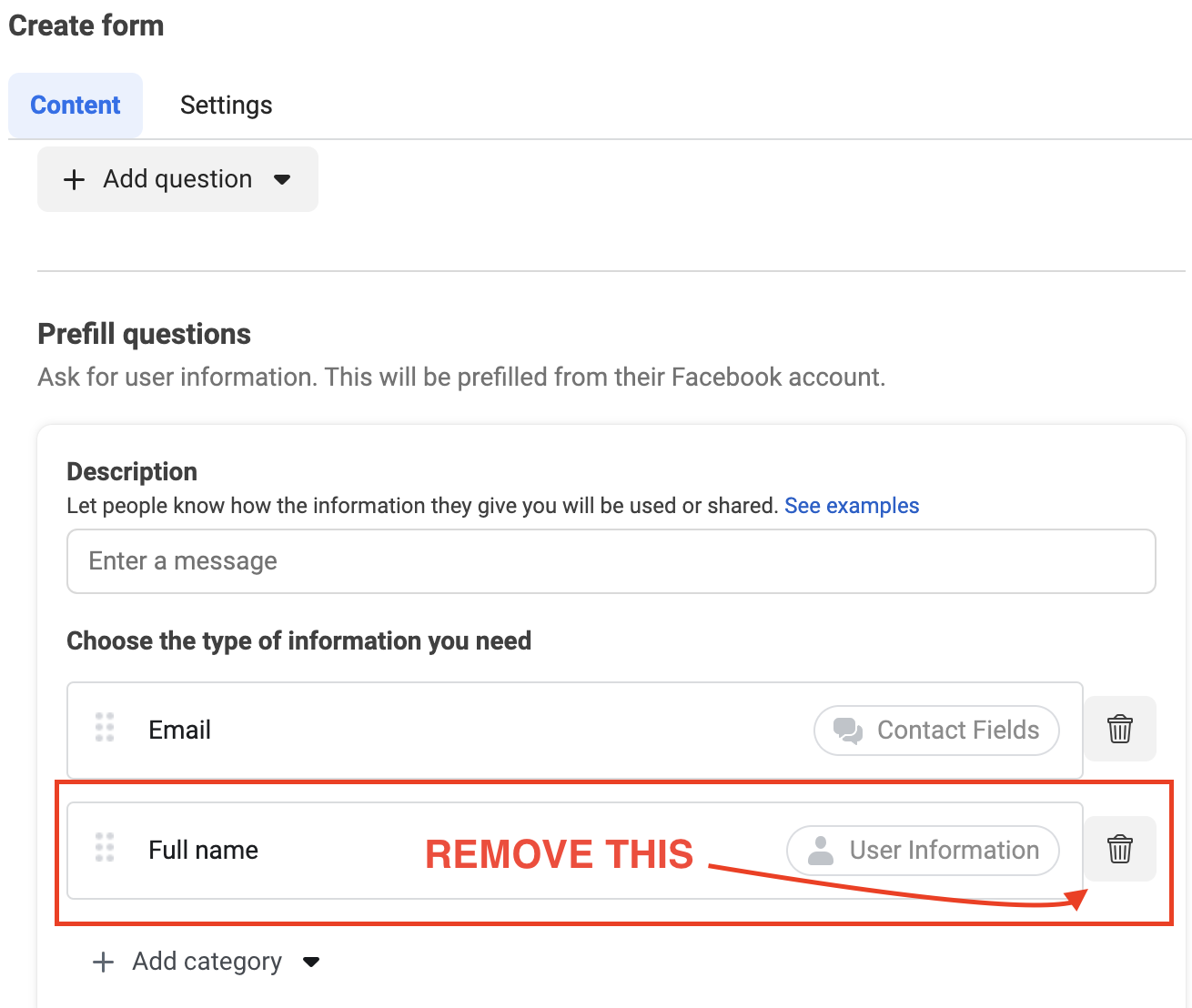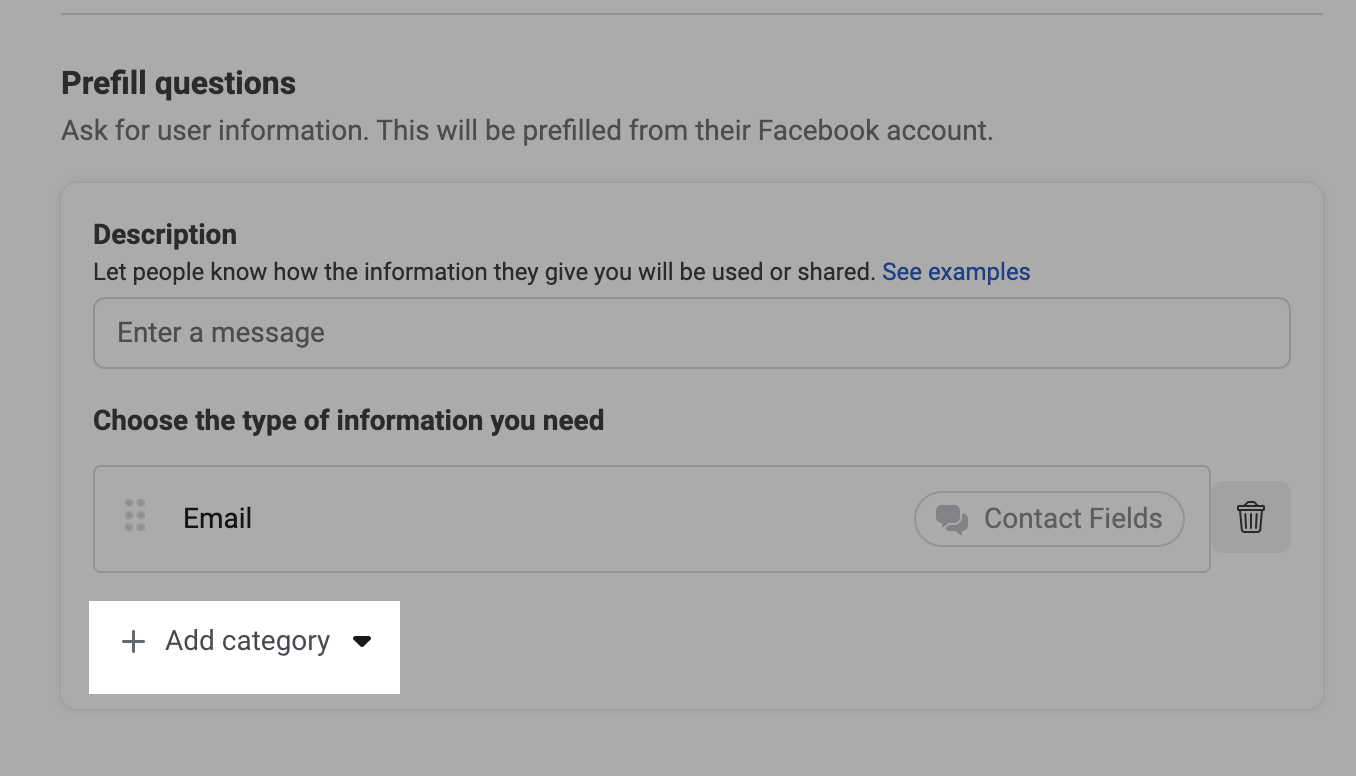 From User information, add both First and Last Name to the form.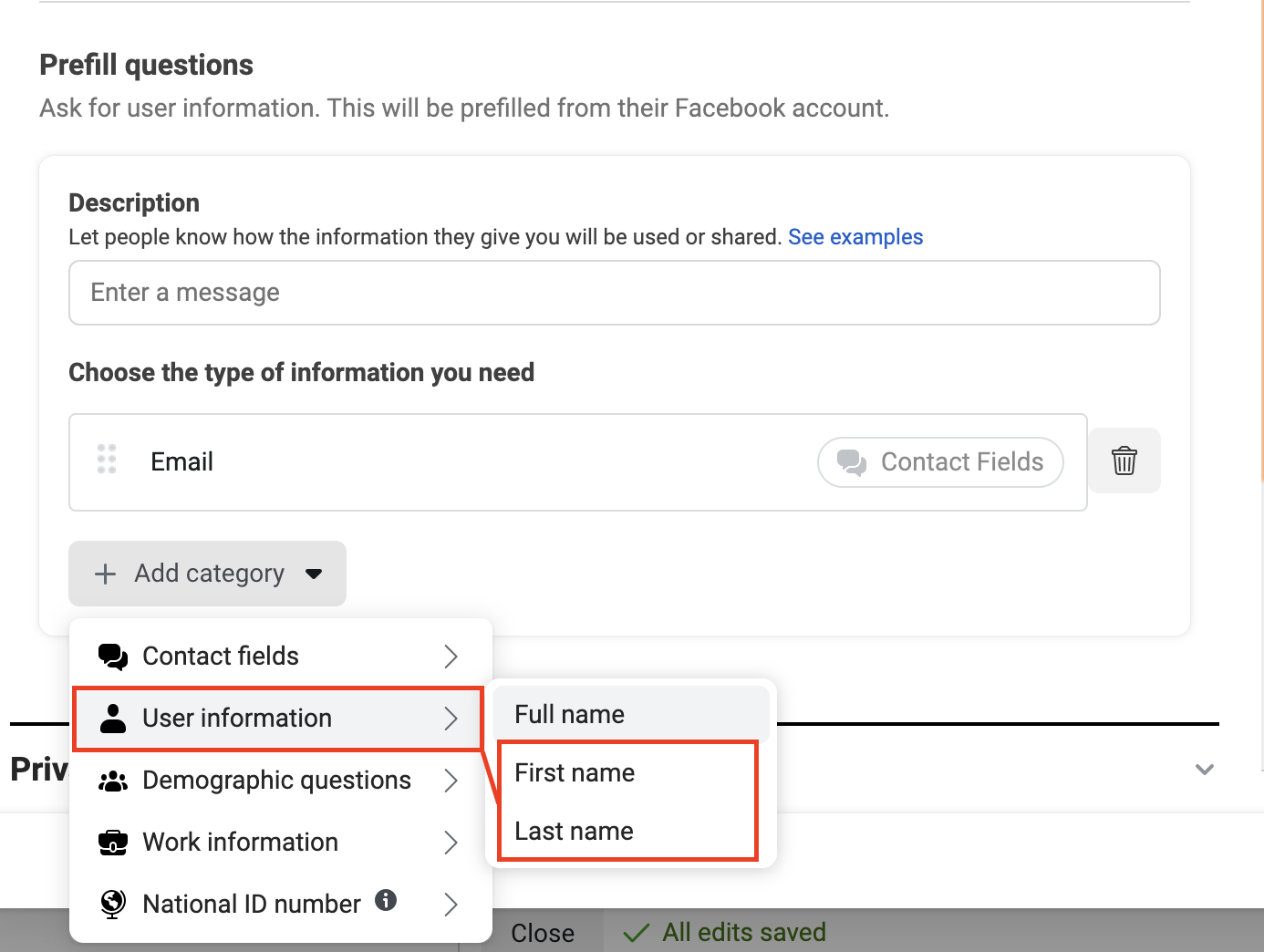 Add any other information that you'd like to collect. We recommend First Name, Last Name, and at least one piece of contact information.

Complete all other required information and select Create Form.
Step 2: Integrate Facebook and Club OS
Once you've created the Facebook Lead Ad Form, integrate your Club OS and Facebook accounts to begin syncing Prospects' submissions. Manage this in Club Setup -> Location Settings -> Facebook Lead Ads.

1. From the Facebook Lead Ads tab in Club OS, click the drop-down menu and select the corresponding club location. (If you do not see a drop-down menu, your club setup or permissions are not allowing you to access this section. If you see a message reading 'Facebook Lead Ads is not enabled' you will need to contact our support team for assistance.)

2. Click 'Login to Facebook'.

4. If you are currently logged out of Facebook, a pop-up will appear asking you to log in. If you are logged in, you will be asked to confirm your account.
After logging in or confirming, you will see a pop-up requesting permission for the Club OS app to access the location's Facebook page. Click 'Okay'.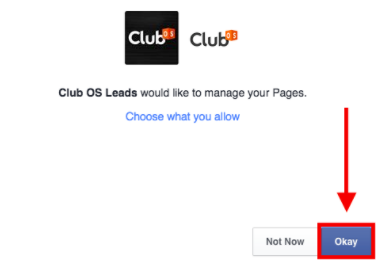 5. Your club's Facebook page and Club OS are now integrated. The Facebook Lead Ads Integration page will record the date and time this occurred.
6. Next, return to the Facebook Lead Ads tab in Club OS. (Club Settings -> Location Settings -> Facebook Lead Ads.) You should now see a drop-down menu under 'Facebook Leads Ad Integration' that lists every Facebook page moderated under the account you just linked, if there is more than one.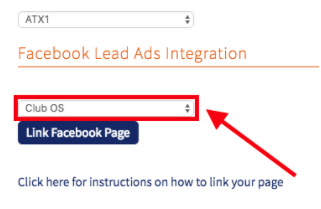 Click the drop-down menu, and select the page you want to link to Club OS. Then click the 'Link Facebook Page' button.

7. The process is complete! Lead Ad submissions will now sync in real time to Club OS. Each submission will create a Club OS Prospect account. The Prospect's Marketing Source will be the title of the Facebook Lead Ad form.
Troubleshooting:
If you are unable to locate these options, you may not have the required permissions, or this tool may not be set up for your club. Contact our support team if you would like to enable this option.
If you change your Facebook password, this will prevent the accounts from connecting and Facebook leads will no longer sync. Club OS will send a notification email if this occurs. To re-establish the integration, simply repeat the steps above.
You can remove the integration at any time.
Step 3: Testing your Leads Ad Integration
Once the ad is reviewed and active, navigate to https://developers.facebook.com/tools/lead-ads-testing in order to send a test. This lead should generate in Club OS in near-realtime.
If your intention is to test multiple forms across different pages, you will need to select "Delete Lead" first before attempting to Create a new Test
Step 4: Select Lead Ad Auto-Response Email (Optional)
Once a club's Facebook and Club OS accounts have been integrated, you can select an auto-response email to go out to new Facebook prospects when their account is created in Club OS. (To enable this option, the emails must already be created in the Marketing section of Club OS. Review the Marketing Campaigns section of our help center if you need assistance.)
You have two options:
Web Lead Response System Email: If you have this set up, it is automatically sent to any Prospect that originated as a web lead (including Facebook Lead Ad Prospects).
New Prospect Response Automatic Campaign: You can set this up to automatically go out to any Prospect with a specific Marketing Source. For example, this can be targeted to Prospects who found your club through this specific Facebook Lead Ad.
Select one or both of the response email types under Club Settings -> Location Settings -> Facebook Lead Ads. In most cases, you should select just one of these options, unless you want your Facebook Lead Ad Prospects to get multiple emails. (An example of a time you might do this would be: you want to send a targeted welcome email to Facebook Ad Leads, and you also want to send them a promo code that all your web leads receive.)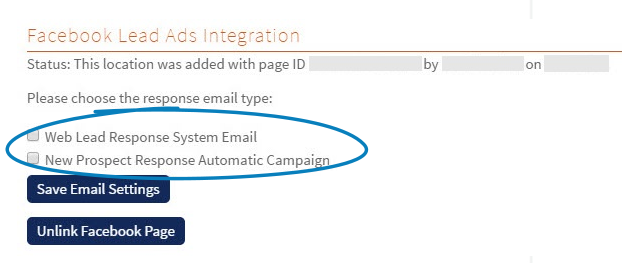 Remove Facebook Lead Ad Integration
You can remove the integration through either Club OS or Facebook. Both methods have the same outcome. Removing the integration will disconnect the two, and will record the date/time of the removal in Facebook.
Remove Integration via Club OS: Return to the Facebook Lead Ads Integration tab (Club Settings -> Location Settings -> Facebook Lead Ads) and click 'Unlink Facebook Page'.
Remove Integration via Facebook: Find the Club OS app in the Apps section of either the club location's Facebook page or the personal Facebook of the Club Admin who set up the integration. Click the 'x' to remove the Club OS app and its access to the Facebook page.
| | |
| --- | --- |
| Remove in Club OS | Remove in Facebook |
Disclaimer
As Facebook regularly changes their policies and procedures, some items within this document may have changed since our last iteration was published. Club OS continues to work to update our internal documentation as promptly as we are able.