Step 3: Terms
Topic: To explain and explore the Terms section of Club OS' Package Setup.
Purpose:
Terms are a club's way of protecting both themselves and their Members by way of miniature contracts that both parties agree to. Not only does the Terms page allow staff to see each term already in existence, it allow for new ones to be built as well.
Procedure:
Begin by clicking the Terms tab of Package Setup.

To add a new term to the list, click the 'Add Terms' link.

This will take you to the 'New Terms' page, as seen below.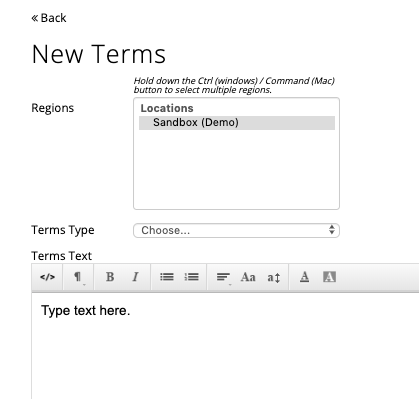 Here, the page has been broken down for easier notation. Fill out the fields as needed. (Red boxes are mandatory.)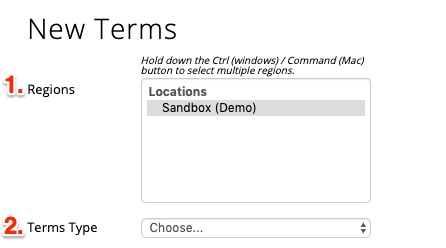 Regions: When a club's location exists within a specified region, this box lets staff specify which location(s) will be carrying this new package.


Notes

: If a term is to be assigned to all locations, this can be done by selecting all locations simultaneously.
Terms Type:

Declares the category of the term being added.




Note

: Every term will require either a signature or initials from the client.


Example

:

A. Terms and Conditions: Concerns liability. A Member must agree to abide a Terms and
    Conditions contract before being able to partake in using a service.

B. Member's Right to Cancel: Protects a Member's right to withdraw from a purchase (while also
    honoring any damage afflicted to the seller/club).

C. Authorization for Preauthorized Payment:

Allows a club to deduct the agreed upon amount   


    from a Member's bank account or credit card per every billing cycle for the entire length of the
    purchase agreement.

D. Auto Renew - Term: Allows a club to automatically renew the Member's service agreement for  
    the same term length once the original term expires.

E. Auto Renew - Open: Allows a club to automatically renew the Member's service agreement on a                  
    per-bill-cycle basis once the original term expires.
             Note: The 'Auto Renew - Term' and 'Auto Renew - Open' terms and conditions will only be listed
             on the Terms and Conditions page if the Member selects either option for their package.

       F.  Age Verification: Allows clubs to attach any age-related text to a package and necessitates a full
           signature of, either, the purchasing Member or that of a parent/guardian.
Terms Text:

The text field for the actual term, itself.




Note

: Each club ought to possess their own 'term text' as provided by corporate.
Upon completion, if a term is ready to be equipped, click 'Save'.

The term will post onto the Terms homepage.

To edit your existing Terms:
On the Terms homepage as seen in the below example, you will notice once you have created and saved your Terms, there will be an edit icon to the far right hand side. Click this icon to edit your current Terms.

Once you have edited your Terms, do not forget to click the save button at the bottom of the page.