Step 7: Pay Period Admin
Topic: To explain and explore the Pay Period Admin section of Club OS' Package Setup.
Purpose:
Pay Period Admin allows a Club Admin to orchestrate the regularity in which staff is paid. Additionally, it aids in defining from which revenue stream a staff's commission is based. It is also the final stage in Package Setup.
Procedure:
Begin by clicking the Pay Period Adminl tab of Package Setup.

To add or adjust a payroll setting, click the 'Add Pay Period Setting' link.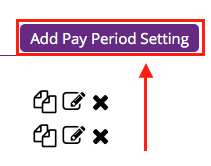 This will take you to the 'Pay Period Setting' page, as seen below.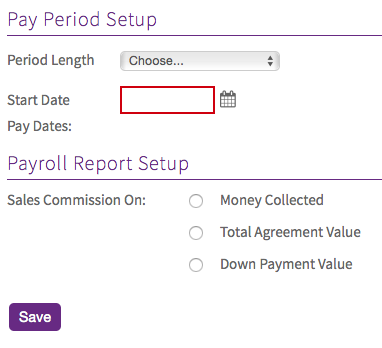 The Pay Period Setting page is comprised of two parts:
Here, the page has been broken down for easier notation. Fill out the fields as needed. (Red boxes are mandatory.)
A. Pay Period Setup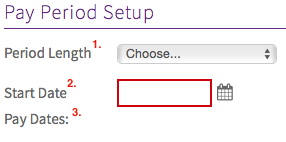 Period Length:

Defines the frequency in which staff is paid.




Example

:
                       
         Note: Upon opting to pay staff weekly, a second field will appear, allowing the
         Admin to specify the frequency: every week, two weeks, three weeks, etc.
         Example:

Start Date: The date in which each new pay period begins.


Example

: March 23rd, 2016.
                  

         Note: If, in Package Length, 'Semi Monthly' is selected, the calendar offers only
         two optional start dates: the 1st and the 10th.
         Example: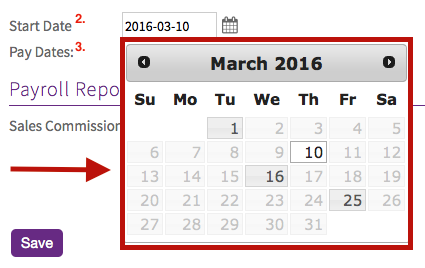 Pay Dates:

Displays the pay dates concluded from which Period Length and Start

Date an Admin selected.




          




Example #1 -Monthly

:
                              

          Example #2 -Semi Monthly: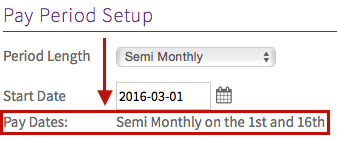 Example #3 -Weekly: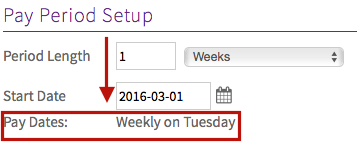 B. Payroll Report Setup
Here, an Admin decides from which revenue stream a staff's sales commission will be based upon. Three options are offered: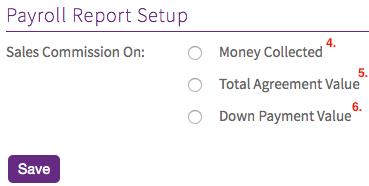 Money Collected:

In this scenario, an employee receives commission based entirely on

the amount of money a club has collected on an agreement within that pay period.


Note

: An employee can only collect commission on packages that they, themselves, sold.


Note

: If an agreement spans the length of multiple pay periods, the commissioned 

employee is rewarded only for the pay collected within that individual period. It is not an accumulated sum.
Total Agreement Value:

Here, an employee accrues commission based upon the entire

amount of a package sold within that pay period.


Down Payment Value:

An occasion in which an employee receives commission based

only on the down payment of a package sold within the pay period in question.
Once payroll is complete, click 'Save'. These new settings will now display on the Pay Period Admin homepage.

Note: With each new pay period, a link to its resulting Commission Report will populate in the space below.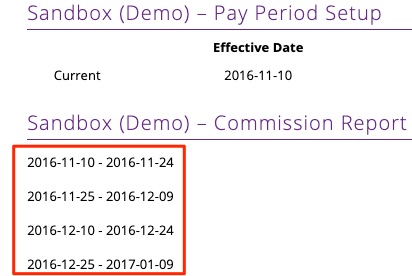 To access each Commission Report, simply click on the date range desired. Within minutes, the report will arrive in the email associated with your account.
*****
Click here for steps on how to sell complete PT Packages.