Check-In Report
---
This report tells you how often members at a club location are checking in. Choose a location when setting up the report, to see all the members who checked in at the location. (Click here for steps on how to access, filter, and schedule this report.)

An example of a Check-in Report can be seen below:
Columns generated in this report contain:
Location - member's club location.
Name - member's name.
Type - member's agreement type.
Check-Ins - this is the number of times a member has checked in for the specified date range at the club location.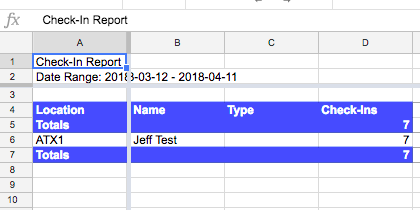 If you setup the report to "Group Locations", it will group all locations in your list, and each row will reflect the number of check-ins by location vs. by member.  See example below.