The Digital Guest Waiver (DGW) is a form that collects basic information from visitors to your club and automatically adds their details to Club OS. This form is set up for your club when you sign up with Club OS. 
Find and Display your Digital Guest Waiver | Edit the DGW | Enhanced DGW/Appointment List Feature | Best Practices
---
Information the DGW Collects
The standard Digital Guest Waiver includes fields for the lead's contact information and a liability waiver, which must be agreed to before the lead can submit the form. 
The DGW can be customized to collect additional lead information depending on the needs of your club, like asking about activities or programs they are interested in, or answering COVID-related health-screening questions. You can also include opt-in/opt-out checkboxes for email and/or text communication to collect a lead's communication preferences right away. 

When a lead completes the DGW, Club OS will check to see if a Prospect account already exists for this person, by looking for a match to First/Last Name and phone or email. If the user does not already exist, a Prospect account is immediately created for them in Club OS, and the user data will be pushed to the club's integrated member management system (if the club uses one). Club staff can easily find these new Prospect accounts under Recently Added on the dashboard.
DGW and Calendar Events
After locating (or creating) the user account, Club OS checks to see if the Prospect has a scheduled appointment. If they do, their scheduled appointment will automatically be set to a "completed" status and count towards an appointment show (Appts Show KPI). If they don't have a scheduled appointment, an unscheduled visit (Walk-in) will be created on the calendar using the date/time they filled out the form. The code [W] is added to all first-time unscheduled visits to mark them as walk-in events. 
DGW and Follow-Ups
The event created by the DGW will appear on an employee's calendar, and the Prospect will be added to the same employee's Follow-Ups. The employee the Prospect is assigned to defaults to the employee set under "Member Sales" in Location Defaults (My Club -> Location Settings -> Location Defaults). Some clubs use a "Toured By" drop-down menu that allows the Prospect to be assigned to a different employee for Follow-Up. All employees with an Admin, Location Manager, or Salesperson role will appear on this menu, unless you have checked "Exclude this employee from the digital guest waiver" in their Employee Settings or the employee has been marked as a template account.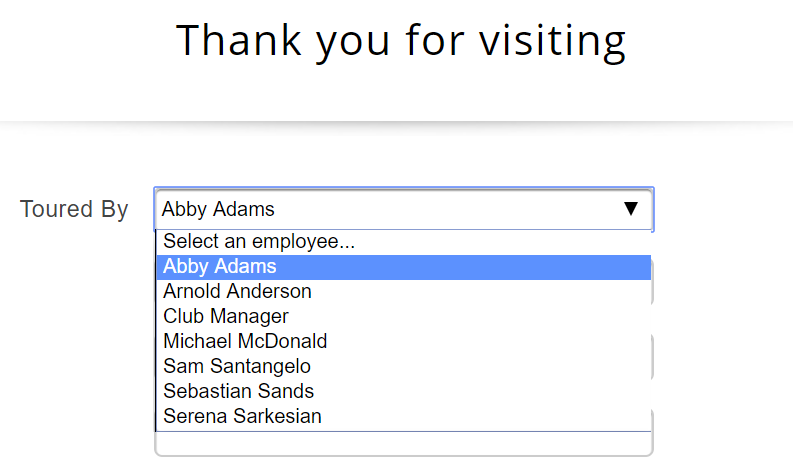 After completing the DGW, a Prospect will move into the Missed Guest follow-up status unless they obtain a guest pass or purchase a membership on the same visit.
Find and Display your Digital Guest Waiver
You can find the link to your location's DGW in your own Account Settings under Guest Waiver Link. Feel free to bookmark this URL or leave it open in a new tab on your device. Once the link is created for your location it will not change.
You can display the Digital Guest Waiver on any device that has access to a web browser (like a laptop, desktop computer, or tablet).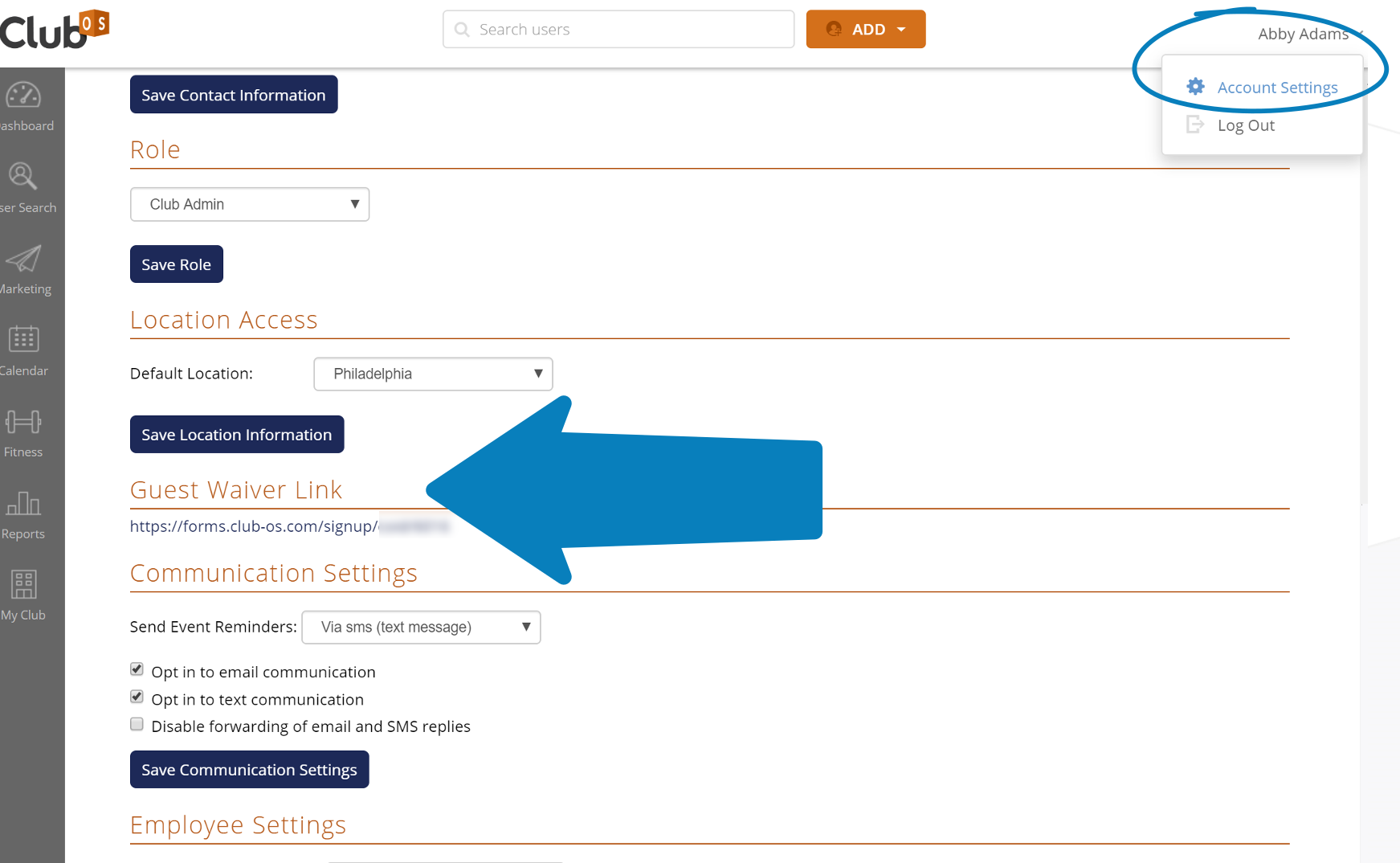 The Digital Guest Waiver is location-specific. If you have access to multiple locations, the DGW link in your account will be the one for your default location. To find the link for a different location, just change your Default Location under Location Access immediately above, and click "Save Location Information". The Guest Waiver Link for that location should now appear. (After you copy or bookmark the link, make sure to change your default location back to its original settings.)
Edit Your Digital Guest Waiver
If you need to make changes to your DGW, please contact Club OS support. 
Enhanced DGW
Some clubs use a one-page Digital Guest Waiver to collect lead information. Others use an Enhanced DGW, which presents a multiple-choice screen allowing guests to make a selection based on whether they are a new or returning guest, with or without an appointment. This is customized for each club based on their specific needs.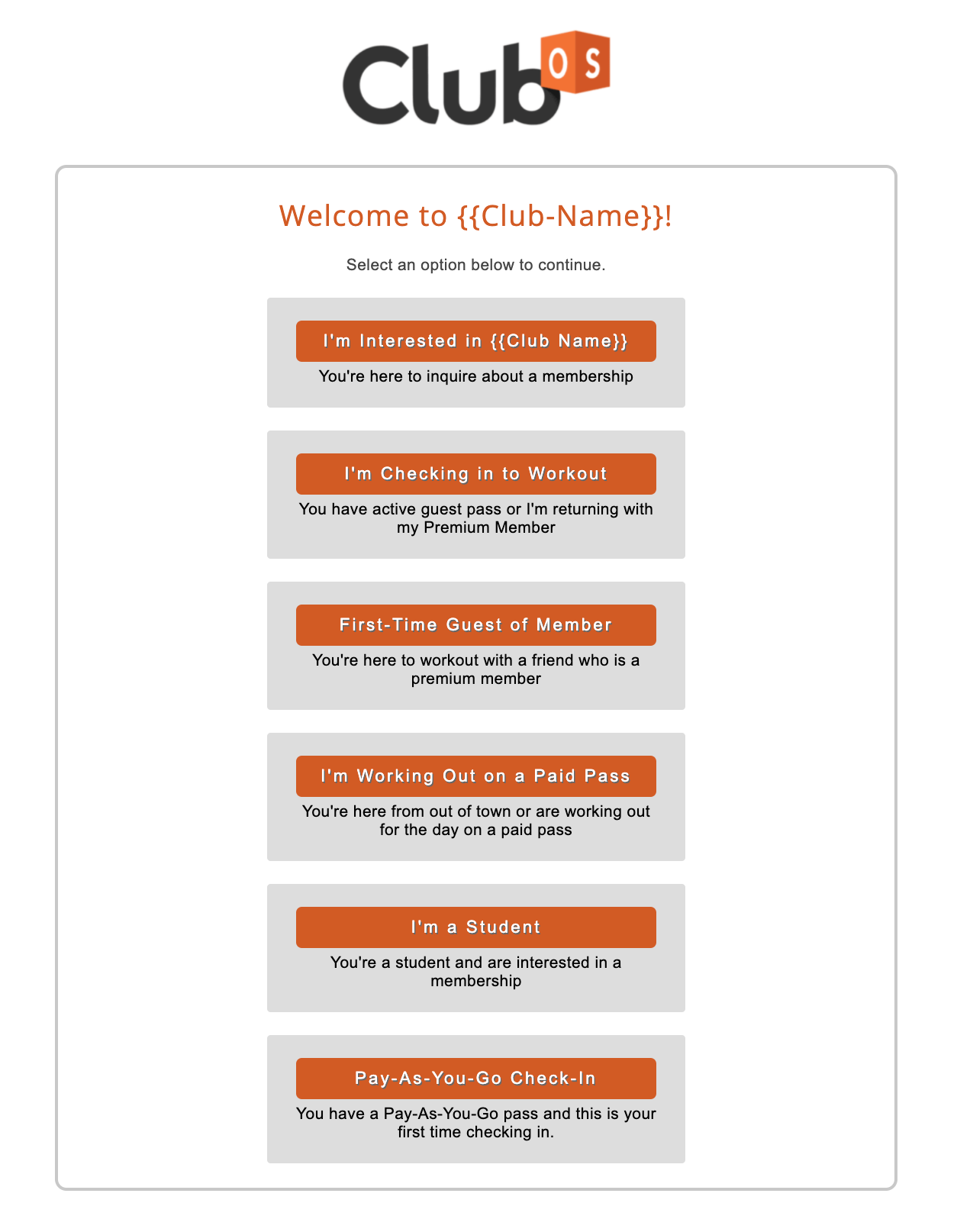 Example of a customized Enhanced Digital Guest Waiver
Enhanced DGW Options
Club OS offers five possible selection buttons for Enhanced DGWs. These buttons can be renamed according to the client's needs, and other optional settings are used to customize how the form functions. Some options are only available to clubs that have VIP Guest settings enabled. (To request changes to these settings, or other aspects of your DGW, please contact Club OS support.)
1) New Guests: 
This option is used for membership tours for existing or new leads. It will always complete an appointment or create an unscheduled visit on the calendar (these events will count towards KPIs). The lead's origin will be set as Walk-in (unless they are an existing Prospect with a different origin) and their follow-up status will be set as Missed Guest unless they obtain a membership or guest pass on that visit.
Appointment List Feature
At clubs that have the Appointment List enabled, guests can use the DGW to check in for scheduled appointments. When the guest clicks the New Guest button, they will be prompted to indicate whether or not they have an appointment.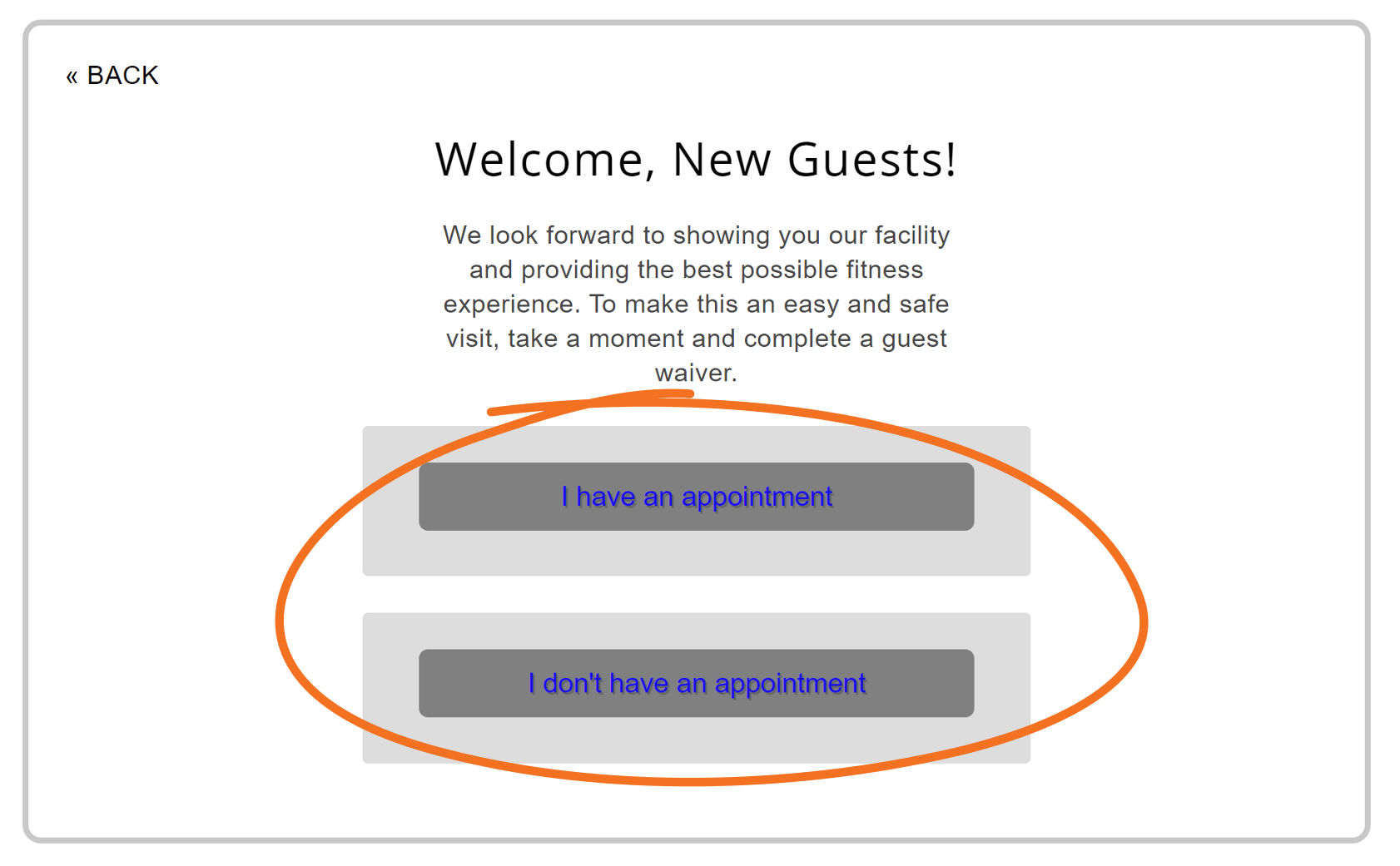 If they select "I don't have an appointment", they are asked to enter their name and contact information and they will be entered as an Unscheduled Visit (Walk-in) on the club's calendar. 
If they select "I have an appointment" they will see a list of scheduled tours. These correspond with events on the club's calendar and will list the attendee's first name and last initial and their appointment time. The list includes the remaining scheduled tours for the day, along with events scheduled to occur within the last 60 minutes where the guest hasn't checked in yet. Completed events will not display here.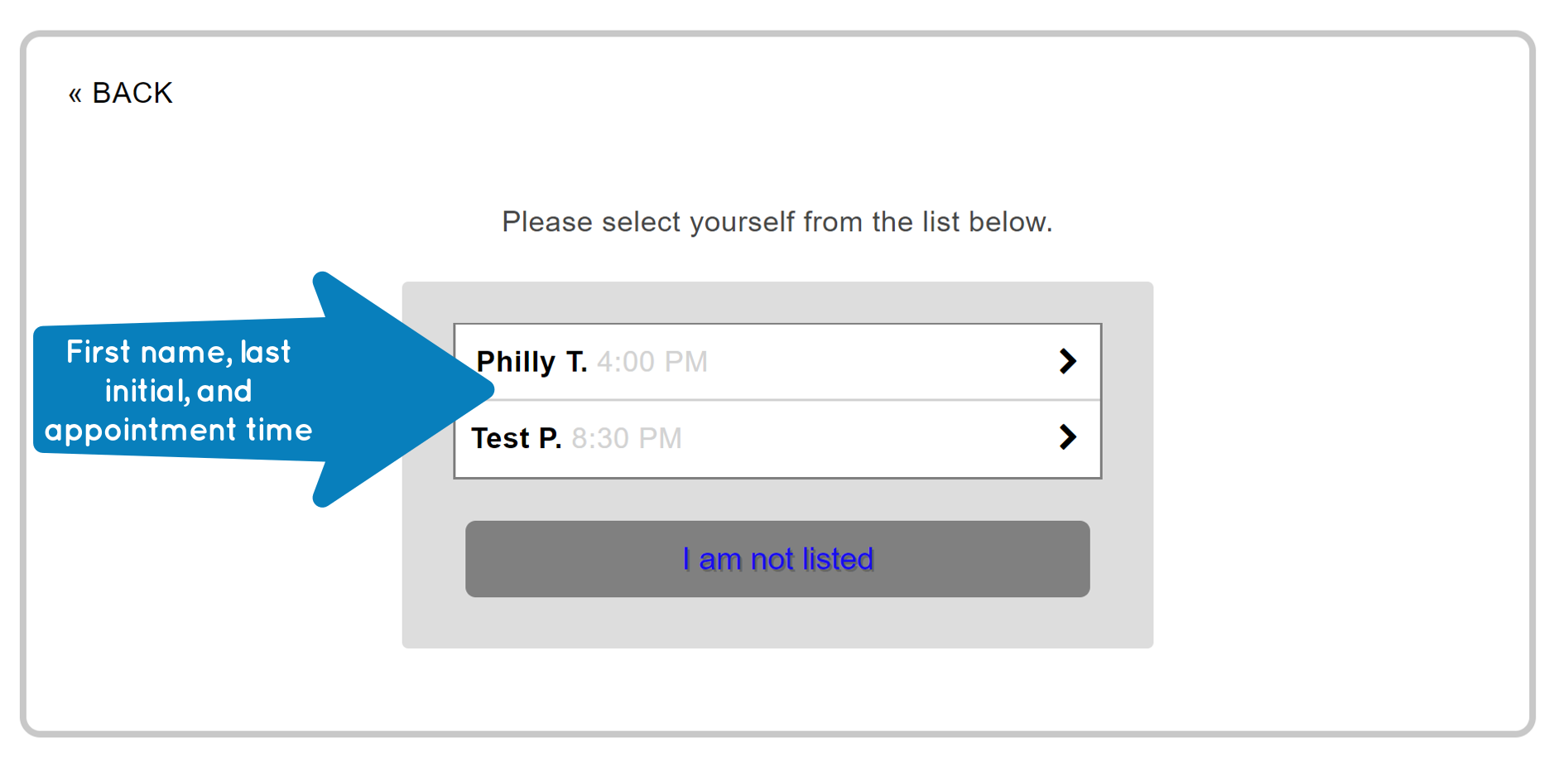 The guest should select their name and appointment time as appropriate. They will then be taken to a screen to confirm and submit. If Club OS is missing contact information that is normally required on the New Guest form (phone or email) for the guest, there will be a field to enter it here. If the New Guest form includes any Health Waiver questions, they will be displayed and required here as well. Once the guest clicks "submit", their event status for the tour on the Club OS calendar will be marked "Complete". 
If the guest selects "I am not listed" they'll be taken to the same screen as if they selected "I don't have an appointment".
2) Returning Guests
This option searches for an existing Prospect account, and checks the guest in if they meet certain criteria. It can allow a returning guest to bypass filling out the DGW if they've already completed it, and helps the club keep track of guest activity. For clubs requiring Health Waiver questions, the Returning Guest screen can be configured to collect contact information if it is missing on the prospect's account, and require them to complete the Health Waiver questions. In most standard configurations, Returning Guest visits will not create any additional calendar events. (Since appointments and unscheduled visits count towards certain KPIs such as Close %, most clubs prefer to disable automatic event creation for returning guests. If you have questions about your club's configuration, please reach out to Club OS support.)
3) VIP Guests
This button is used by clubs that offer special premium memberships allowing the member to bring a guest. The VIP Guest option helps clubs track activity and collect waiver signatures for these guests. The member is prompted to enter a phone number or email, which Club OS will use to look them up. The waiver can be configured for this option to validate if the found member has a premium membership, or you can skip this validation. The New Guest form of the Digital Guest Waiver appears once the member has been found and the membership type has been validated (if configured). After the guest completes the DGW, their Prospect account will be created with a VIP Guest origin, connected to the member who brought them in, and their Follow-up Status will be VIP Guest. This option does not create a calendar event.
Note: Some clubs have different terms for "VIP Guest", like "Premium Guest" or "Member Guest". 
Also, if your VIP Guest option on your Digital Guest Waiver creates leads with an origin of referral, please reach out to support@club-os.com to upgrade your Guest Waiver to the new VIP Guest functionality
4) Paid Pass
If this option is available, it will take the guest to a form that looks and functions like the club's standard New Guest form of the Digital Guest Waiver, but does not create a calendar event. The guest's Origin will be set as Referral and their status as VIP Guest. (Note: Club OS will not validate this entry against the club's payment system to confirm that the guest has purchased a pass.)
5) Student
If this option is available, it will take the guest to a form that looks and functions like the club's standard New Guest form of the Digital Guest Waiver. This button has a setting to decided if using this button should create a calendar event. The guest's Origin will be set as Student and their status as Student.
5) Pay as You Go
If this option is available, it will take the guest to a form that looks and functions like the club's standard New Guest form of the Digital Guest Waiver, but does not create a calendar event. The guest's Origin will be set as Pay as You Go and their status as Pay as You Go (Note: Club OS will not validate this entry against the club's payment system or 3rd party to ensure guest is allowed access)
Additional - Member Health Waiver

Clubs operating in states with COVID-19 screening requirements may opt to have their members sign a health waiver form in order to enter the gym. Adding the Health Waiver screen to the Digital Guest Waiver will allow members to locate their account by barcode, phone number, or email. Once their account is found, the form will require any missing contact information and add it to their account, and require that the member answer health waiver questions. If a member cannot locate their account, they can still submit the form by completing all of the contact information fields and answering the Health Waiver questions.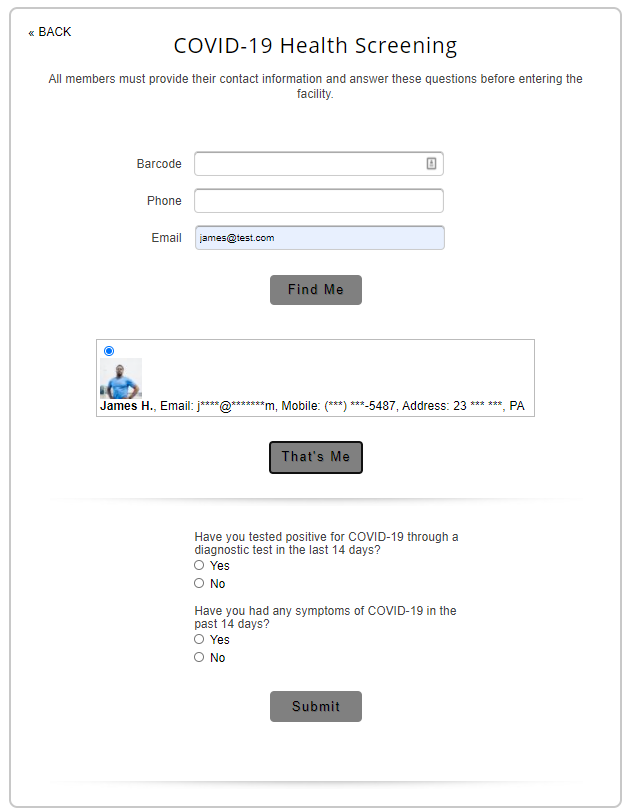 If the member answers undesirably to any of the Health Waiver questions (indicating that they have had COVID-19 exposure or risk), they will not be able to submit their waiver and will see a message that they are not permitted to enter the facility. If the member answers all questions desirably, their submission will be accepted and they will both see a confirmation screen with their unique confirmation ID and submission time and be emailed a copy of the same information. The member should show this confirmation to a staff member in order to enter the facility.
The Health Waiver questions can be added to any of the other Digital Guest Waiver screens so that new and returning prospects must also answer them. Any screen containing Health Waiver questions will display and email a confirmation to the user with their confirmation ID and submission timestamp.
---
Accessing a completed waiver
Each time a user completes a guest waiver, it's added to their profile with the completed date and time. Additionally, there is a downloadable link so that you can access the completed waiver. Navigate to a user's profile, 'prospecting' > 'general' and find the 'Release of Liability Waiver' section.

Best Practices
Recommended Devices
Google Chrome is the preferred browser for Club OS. 
Since Club OS is a web-based app, you can run it on any device (laptop, desktop computer, or tablet) that has access to a web browser. If you are planning to display your DGW on a tablet, look for one that can run Google Chrome. Many clubs use a vertical mount for their tablets. Be sure to find one that is compatible with your tablet's charger.
Troubleshooting
Certain users may not have a working DGW link in their own account. This happens in cases where an Unrestricted Club Admin does not have a default location set up. To access a working link, Admins can temporarily select a new Default Location, or navigate to the account of an employee assigned at that location and access the DGW link on the employee's account settings page.