Club OS allows club staff to set their own availability. By doing this, employee are able to display which of their work hours are occupied by oncoming events and which hours are available for booking. 

There are two different views:
View availability (every week)

View availability (specific week)
Setting Availability for Every Week
Click the 'Availability' link located within the Calendar tab: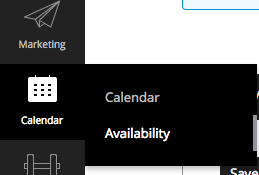 The employee's schedule will appear.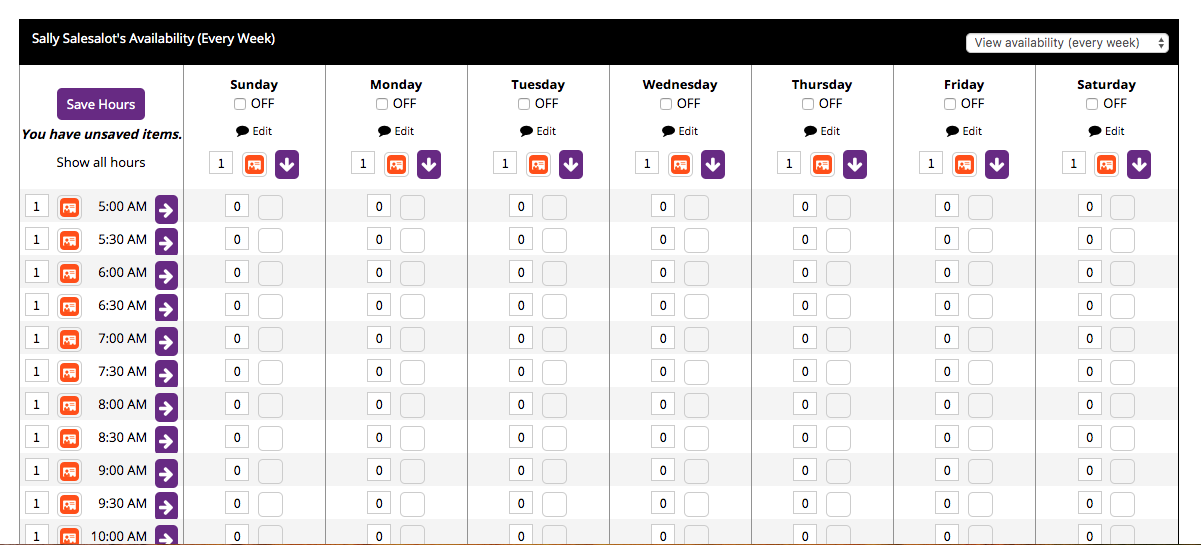 On the top right corner toggle to `View availability (every week)` if needed: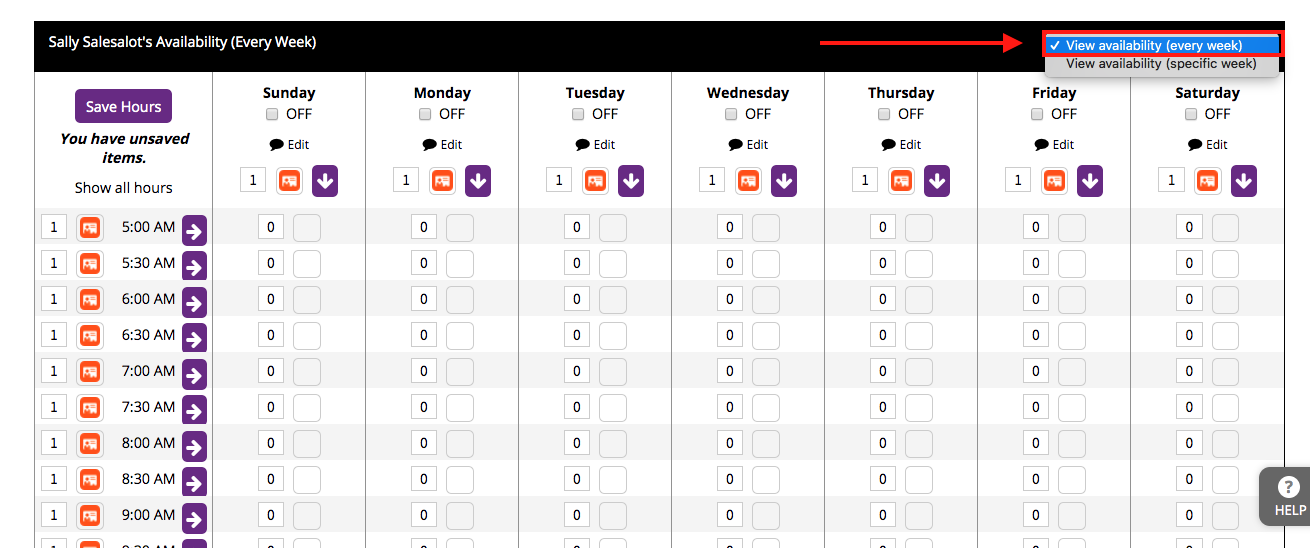 Next, mark the day(s) off if you will be unavailable for that day. This will ensure that appointments are not booked on that day and it will prevent follow-ups from being populated on that day:
The number 1 inside the box is a field where you can enter the number of appointments you're available for in a given time slot. Best practice is to choose 1 to avoid double booking:
Booking options are as follows: 0 = Unavailable and 1 =  Available 
The box in the middle is where you can select the default event type:
Appointment (orange) is reserved primarily for salespeople. It's used to indicate a club tour. The other icons will most likely be utilized by the trainer. However, if you're a salesperson who also trains, you may select the other events as needed.
Selecting `Any` will let you select any type of appointment when scheduling the event. This should be selected if you don't have a preference for the type of event. 
Next, select the time duration for your availability. Clicking on the arrow will display the time setting window. This can be adjusted according to your availability. Once you selected the duration, you can click on `Set`:
Once you're done setting up your availability for the rest of the week, you can click on `Save Hours`:
Setting Your Availability for a Specific Week 
This will be helpful to mark yourself off for a particular day(s). For example: PTO, Holidays, Birthdays, etc. 
On the top right corner toggle to `View availability (specific week)` if needed. Notice the date is on top of the weekday:

Navigate to the top left corner and use either the calendar icon or the arrows to go to the week of the particular day(s):

Mark yourself off for that particular day(s):

Helpful Tips:
Helpful Tip #1: When setting up your availability for every week, you can start completely fresh by marking yourself off everyday > click on `Save Hours` > unmark yourself off > click on `Save Hours` again: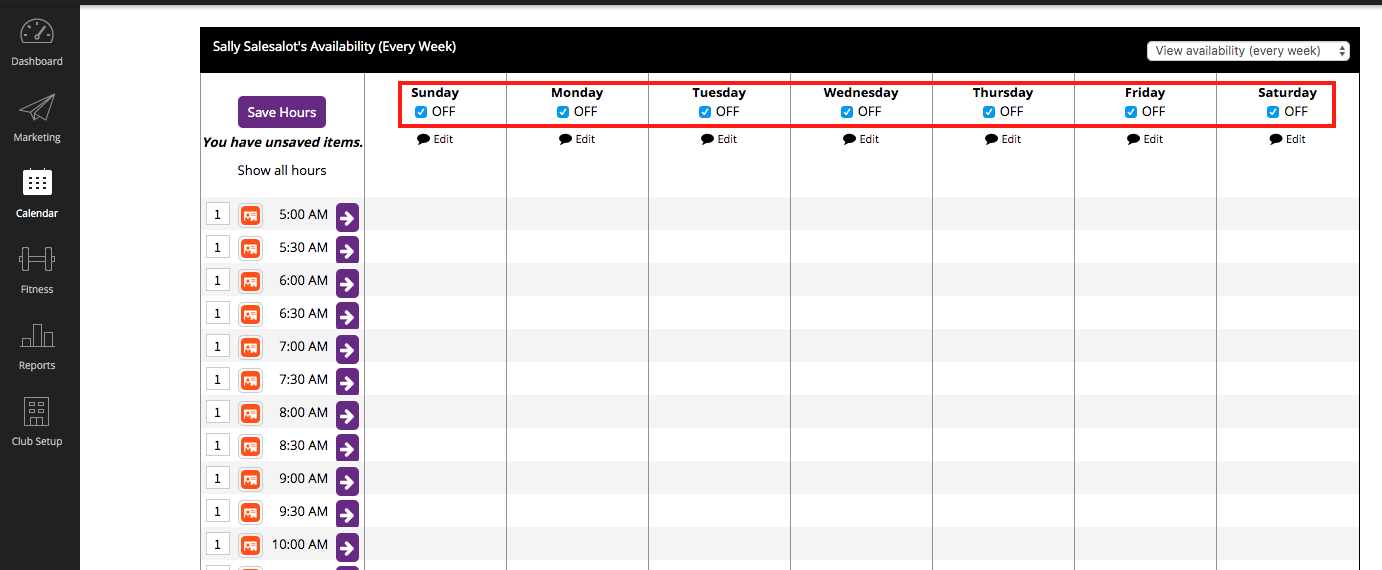 Helpful Tip #2: You can also set your availability `Horizontally.` If you navigate to the left side, you can adjust the settings to push the changes across all days horizontally :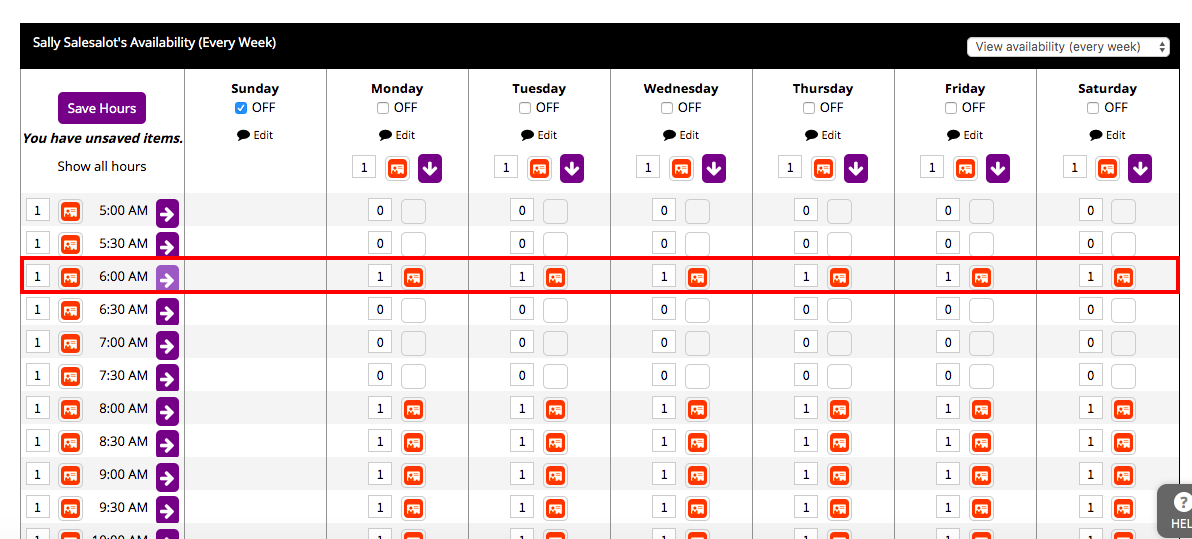 Helpful Tip #3: If you have access to more than one location, you can filter for a specific location: